April 26-29, 2018
After what felt like a long winter in Utah, with a lot of ups and downs on the trying to find employment roller coaster, Rob and I decided an adventure was in order. The weather was still fairly unpredictable in Utah (Centerville anyway), but we wanted to camp so we decided to head West to Nevada to check out some of the state parks that looked really cool and interesting after doing a little research. I was so excited to be getting outside for an adventure! I love to travel and experience new places. It is one of the things in life that really fires me up and fuels me for life.
Charcoal Ovens
Our first stop was out in the middle of freaking nowhere Nevada. We drove for hours with nothing around until we finally reached the Ward Charcoal Ovens state park. The ovens were easy to spot because they were really large and the only thing around for miles; six ovens lined neatly in a row, perched just in front of the Eagle Mountain range. It was pretty hot when we got there, but inside the ovens it was incredibly chilly and a faint echo could be heard as you spoke. The ovens unique cone shaped structures built of stone were artfully crafted and since we were the only people visiting, it was a neat experience taking in the scene by ourselves. Great stop!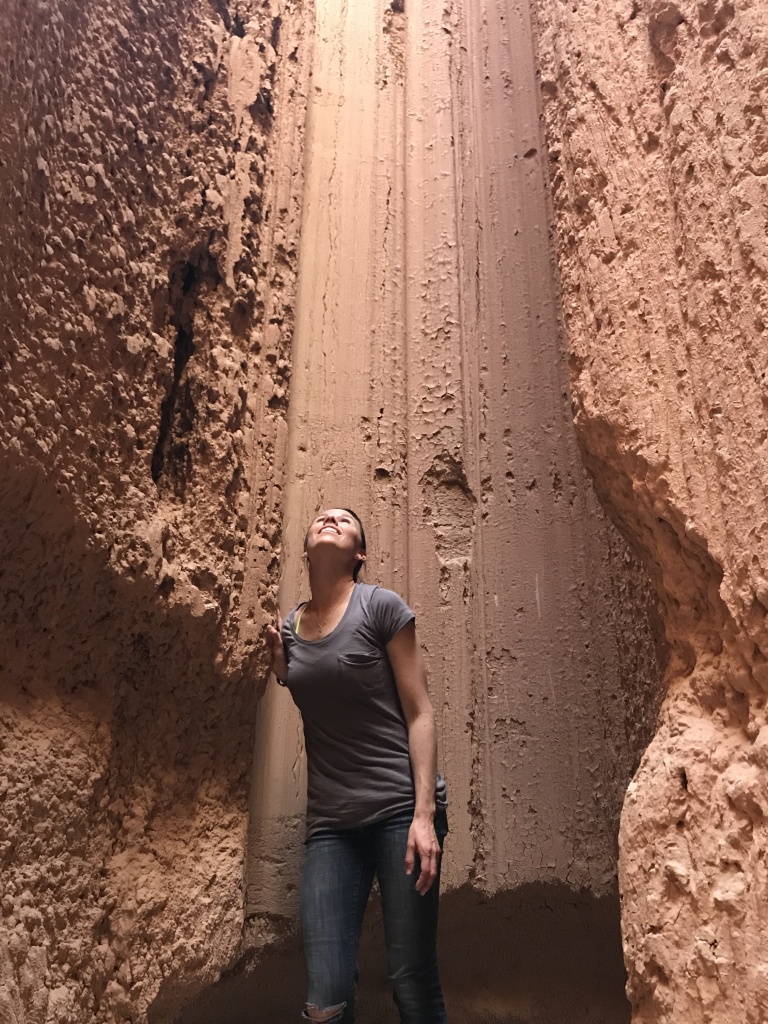 Cathedral Gorge
My first thought when we arrived here was, this looks like a castle carved out of sand – it was beautiful. You could see the individual layers of sand as the colors changed over time from a chalky white, to various shades of red, brown, and orange. I love and am fascinated by rocks, and Rob and majority of our Spangenberg family love to go rock hunting, so naturally this has become a love of ours too. We found a walking path down into the gorge that followed a dry river bed along the valley floor and there we began exploring for rocks. It may not sound like a very fun way to spend your afternoon, but if you have never taken the time to really look at or appreciate rocks, there is so much beauty you have yet to discover!
We spent an hour or so hiking up inside different parts of what looked like giant cathedral pillars from ancient times. Each of the pillars was unique in shape, size, and texture. Some were smooth, some were extremely rough, but all of them were uniquely formed, with each crevice containing such incredible detail, as if shaped by the hand of God. Light pierced through tiny holes in the structures, illuminating the open shafts from the inside, creating beautiful patterns of light along the sandy walls. This was one of my favorite parts of our experience here. It paralleled for me how God is not intrusive and in no way takes away our independence or how the holes or imperfections are formed as we are building ourselves, but gives us opportunities throughout this building process to feel of His warmth and light in unique and simple ways in our lives, and if we choose to see that light, we begin to see the fulness of how He has and continues to illuminate our souls with greater love, beauty, confidence, and fills our hearts with joy from the inside out. Light changed and enhanced the nature of these gorgeous edifices of sand, just as the light of Christ can change and elevate us. We found them to be enchanting and mind blowing!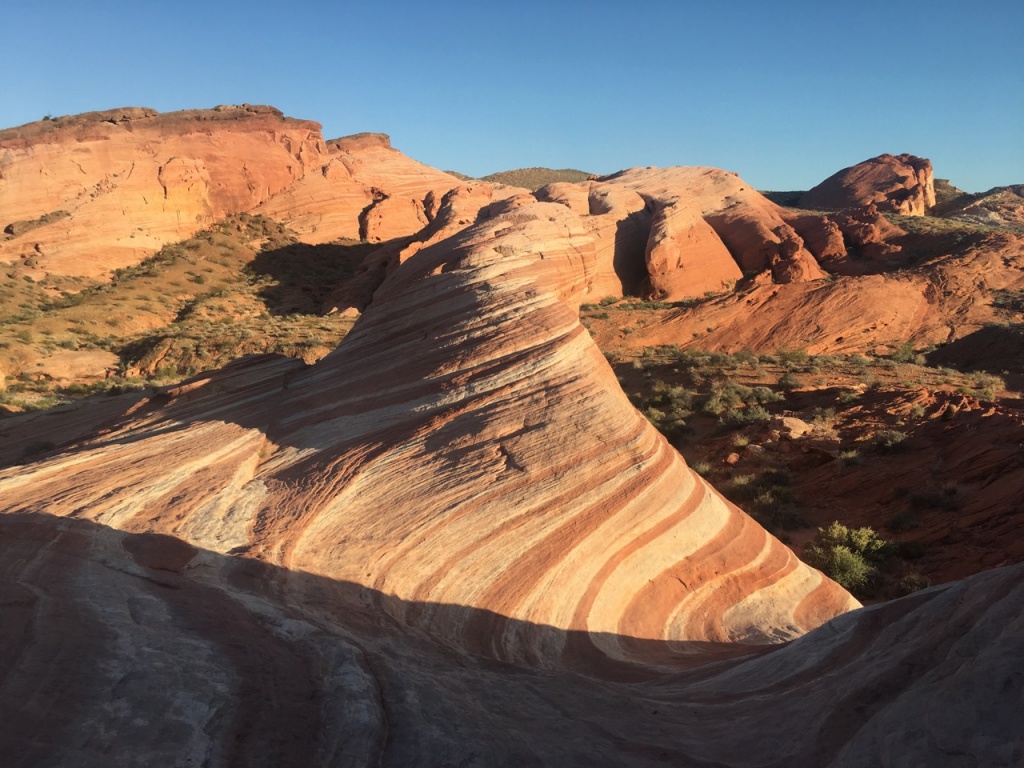 Valley of Fire State Park
Wow this was a totally unknown state park to me. Before this trip I had never even heard of it, but boy, after our visit here I will never forget it! The rocks are so rich in color, parts are a deep red, others are a glowing orange, literally like fire. The rocks are jagged and look like they have deep veins running through them, as the lines in the rocks vary in size, length, and color. There are tons of hikes to do throughout the park too. We loved this Nevada park and will definitely go back if we are anywhere close by in the future!
Cedar City, Utah
Rocks of iron! We would have loved to stay at Valley of Fire another night, but the campsites were full so we headed back in the direction of Utah in search of a new camping destination. We often are not the greatest pre-planners when it comes to camping, and do not usually have campsites reserved or even campgrounds picked out prior to launching on an adventure weekend; this was the case with this wonderful Nevada excursion. Sometimes we will stay on BLM land, but that typically means there are no showers, flushing toilets or toilets at all in some cases, and no drinking/clean water. We usually get pretty lucky and are able to find great campsites on short notice… I say usually, because there was one time that we could not find a campground with any open sites to stay at, it was a full on downpour, and we ended up sleeping in the car. That was probably top ten worst nights of sleep I have ever had. If I can help it, I will never sleep in the car again! Luckily that was not the case this trip!
It was getting late and we had not found a campsite. Rob was driving further and further back into the sticks, it was getting dark, and I was growing impatient. We were on some rough dirt road with lots of enormous pot holes and I was sure we were going to pop a tire and get stranded out in the middle of the desert, but just when I was ready to abandon all hope, Rob found us a road which took to a great campground with very few people and a lot of open campsites! Wahoo!!! We picked a site, based on what little we could see in the late evening hours, and set up camp. We even made a fire, had a great dinner, and enjoyed the cool night air together out under the stars before hitting the hay. When we woke up in the morning we were even more surprised to see that this campground was even better than we had thought! We did some exploring and found a bunch of rocks of iron!! Rob has some exciting plans for this iron one day and I can't wait to see his plans come to life. We had a wonderful weekend in Nevada and Utah. I feel so blessed to be able to spend time outdoors and to see the beauty in all of God's creations. Also grateful we didn't freeze to death camping in April!